INSPIRATION
A new commandment I give to you, that you love one another; as I have loved you, that you also love one another. By this all men will know that you are My disciples, if you have love for one another.
-- Jesus

A person's true wealth is the good he or she does in the world.
-- Mohammed

The unselfish effort to bring cheer to others will be the beginning of a happier life for ourselves.
-- Helen Keller

No country upon earth ever had it more in its power to attain these blessings than United States of America. Wondrously strange, then, and much to be regretted indeed would it be, were we to neglect the means and to depart from the road which Providence has pointed us to so plainly; I cannot believe it will ever come to pass.
--George Washington
Our Mission
To facilitate the transportation of domestic truckload donations between donor and recipient charitable organizations Nationwide.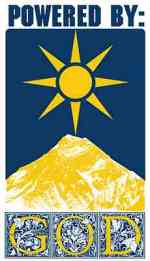 We are happy to introduce our Affinity Assistance Program.
You can help non-profit organizations such as churches, synagogues, mosque, crisis centers, community charitable organizations, food banks, missions, and community outreach centers by submitting an application online on their behalf. We will select an organization that helps needy families from our pool of applications on an as needed basis. Candidates must be in the business of helping needy families by providing food, clothing or medical supplies at low or no cost and preferably provide employment and vocational or educational opportunities. Businesses can refer and submit a charitable organization of their choice by completing this
Affinity Assistance Program referral form.
Why do we facilitate the transportation of donated goods between donor and recipient?

Because we can! Albert Puig believes God has placed him in this position to help the less fortunate. It is in giving that we receive, and we have received so much. Transportation and Logistics industry professionals have it within their power to effect great positive change for needy people. Fifteen percent of the U.S. population or approximately 50 million Americans, including 16 million children, are living at or below the federal poverty level. Many of these are food insecure, meaning they do not know where their next meal is coming from. "There is no shortage of food in America, yet is there is hunger, the problem is lack of transportation," shared Albert Puig.

God has ordered it as such that when we give to others and do for others we are actually giving and doing as unto Him. We have the opportunity to work alongside community charitable organizations that distribute food, clothing and medical supplies to the needy by donating transportation for donations.

We are all created by God and made in his own image. He loves us and cares for us without condition. He wants us to love and help one another. His reward is a life filled to the brim with meaningful purpose and happiness. True peace and happiness is a result of trusting God and is not transient. It is a blessing that only God can bestow on us. Happy people are naturally better at what they do and are more productive and prosperous as well. This is the miracle of God's blessing.

It has been said that we are human beings with a small spiritual experience, when in reality we are spiritual beings with a short human existence. The decisions we make, and the things we do during our short human existence will determine our spiritual address for eternity.


CLICK HERE TO VIEW CHARITIES PAGE